WCS Selected by Wesley Housing to Build The Arden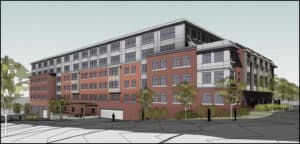 Washington, DC (June 2020) – WCS Construction, LLC has been selected by Wesley Housing to build the next critical phase of The Arden.
A 126-unit, 210,331 square feet multifamily development to be located a block from the Huntington Metro station. The $59M project will provide quality homes for working families in Fairfax County and is designed to ensure the long-term sustainability of the property at standards comparable to other properties in the market area and will remain committed to affordability for 30 years. Located at Huntington Avenue, The Arden is a seven-story wood frame building with 2 levels of parking underneath at the intersection of Huntington Avenue and Biscayne Drive. The building also includes a small fitness center, amenity room, and outdoor courtyard with designated office space for Wesley Housing.
The project has targeted a Gold Certification with Earthcraft and a completion date of August 2022.